Current Products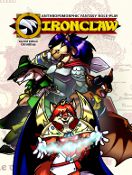 Experience Ironclaw's rich and detailed world of Calabria, where dozens of species live together in sprawling cities and war-torn countryside. Kings broker for power with clergy, wizards, and merchants, each one struggling to conquer all they survey. Meanwhile, beneath the notice of the squabbling powers, lurk greedy robbers, cruel slavers, and dark necromancers who prey on the weak, the helpless, and the forgotten. It is a time for mighty warriors, for quick rogues, for clever wizards – a time for heroes!
Order IRONCLAW from our partners at:
DriveThru RPG • Studio 2

MADCAP is the role-playing game where you and your friends become wacky characters in a cartoon show that you create!  Choose a playbook, such as the know-it-all Smartypants, the devious Trickster, the meta-satirical Self-Aware, and the proverbial more! Use gimmicks to customize your character for any role, such as the beleaguered small-town sheriff, the hapless red-shirted space explorer, the incompetent wizard. Build on your each other's jokes, stack up the laughs, and (maybe) take a few lumps when your hare-brained schemes blow up in your face. With full-color illustrations by animation professionals, MADCAP is the game that brings out the wacky side of your imagination.
Order MADCAP from our partners at:
DriveThru RPG • Studio 2

The laws of physics do not lie, cheat, steal, hold grudges, right wrongs, or fall in love… you do. Powered by the apocalypse, drawn by narcoleptic dreams, and precisely queued to your needs and desires, Farflung is the role-playing game of end-game science fiction after-dark. Whether your fantasy is to be a gestalt hive-mind, an energy being of cosmic power, a lord of time and space, or even just an ordinary person, the Farflung game combines simple rules with high concepts so that you can play the character you want. A unique points-in-time system has each of you taking turns in the spotlight to tell your side of a story that has infinite diversity in infinite combinations.
In the darkness of ages past, our universe was visited by aliens strange and unknowable. They enslaved hundreds of people and they conquered thousands of worlds. For untold generations, the Myriad people served them, and worlds were stripped of all resources, and left barren and dead. And then, a century ago, the Syndics were gone. A complete game in one volume, MYRIAD SONG is a science-fiction adventure where you will travel in the strange legacy of an alien empire. Discover primitive worlds with savage monsters . . . high-tech stations of amazing technology . . . derelict planets where people scrounge out a living among the ruins . . . and places far stranger. You will find lost treasures . . . and you will find horrors best forgotten. The risks are great, but the rewards are greater.
Order MYRIAD SONG from our partners at:
DriveThru RPG • Studio 2
The Myriad Trilogy
The alien masters of the Syndic ruled over the ten-thousand planets… until they were gone, leaving the Myriad Worlds to their own devices. Only the extremely brave or the terribly foolish would dare explore the mysteries that the Syndics left behind….
Rhys is a soldier, born to follow orders without question. Narli is an aristocrat, who knows no master but herself. They each have one piece to the puzzle, to find a lost treasure trove of technology abandoned by the Syndic Empire. But when they discover galactic terrorists using that same forbidden technology, someone has to make it their mission to stop them.
Matt Howarth (Those Annoying Post Brothers, Savage Henry, Teenage Mutant Ninja Turtles, Transmetropolitan) takes you on a strange adventure set in the universe of the Myriad Song: a story of alien drive-bys, suns going nova, a film crew shooting a very peculiar documentary, and a cosmic doom that threatens the entire universe.
Order MYRIAD graphic novels from our partners at:
DriveThru RPG